one of the great works of the sixties, 1969.
January 20, 2015  |  Artists, Behind the Scenes, Collection & Exhibitions, NYMOMA
Collecting Alvin Lucier's I Am Sitting in a Room
Posted by Martha Joseph, Curatorial Assistant, Department of Media and Performance Art
In 1969 American composer Alvin Lucier first performed his landmark work I Am Sitting in a Room, conceived for voice and electromagnetic tape. Lucier read a text into a microphone. Attempting to smooth out his stutter, he began with the lines, "I am sitting in a room, the same one you are in now. I am recording the sound of my speaking voice." As described in the text, his voice was recorded, then played back into the room. This process was repeated, and with each iteration Lucier's recorded speech grew muddled, sounding distant, and specific sonic frequencies started to dominate the recorded sound. These tones that began to overwhelm the text and abstract the sonic landscape are the room's resonant frequencies and are entirely specific to the architectural particularity of a given space. As these frequencies grew, reinforced with each playback, the result was an erasure of the human performer and the dominance of an environmental music.
[pearodox note: DeMarinis studied not only with riley, ashley, and tudor, but also with lucier. he was part of tudor's group at Mill's center for experimental music and helped compose, and play, tudor's work, Rainforest, performed with Merce Cunningham's dance of the same name, though there were several versions, and i'm not sure which Paul contributed to. but i did see him perform it as part of the ensemble at Zellerbach Hall, U of C, Berkley: i'm pretty sure it was there…]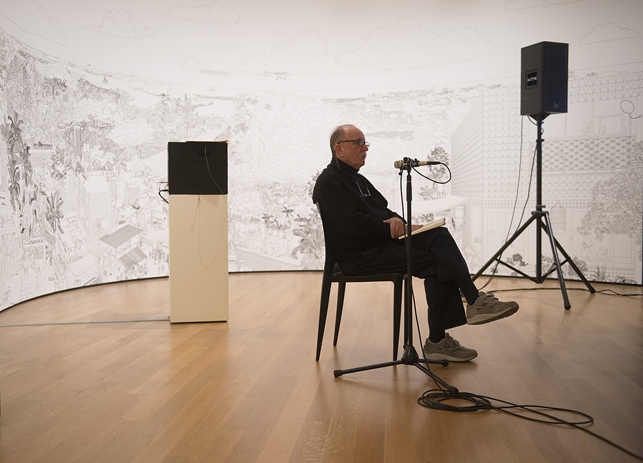 to be sequentially experienced, optimally, in a single setting with lucier's piece above. for several years, i taught a graduate class called, Power and Poetics: Scanning the AudioVisual Archive, at the California College of Art, in San Francisco, sometimes co-taught with my then grad student, David Goldberg, who went on to develop this course with his own students [see below]
Jarman's Blue, 1993
A montage of poetry and music as Derek Jarman meditates on metaphysics and death in his contemplation of the colour blue and his own experience of living with AIDS.
The film was his last testament as a film-maker, and consists of a single shot of saturated blue colour filling the screen, as background to a soundtrack where Jarman's and some of his long-time collaborators' narration describes his life and vision.
On its premiere, on 19 September 1993,[1] Channel 4 and BBC Radio 3 collaborated on a simultaneous broadcast so viewers could enjoy a stereo soundtrack. not available on youtube.
Rough Syllabus David and I taught:
POWER AND POETICS: SCANNING THE AUDIO/VISUAL ARCHIVE
mark bartlett and david goldberg
Graduate Seminar
Spring/02
The Arch-ive
Pre-Archival Archives
Blue, Derek Jarmon, the film
Audium field trip
Derrida, "pages 1-5", Archive Fever, plus you should get a jump                              start on the readings for the next two weeks because it's heavy.
Vilem Flusser, Toward a Philosophy of Photography
The Poetics Archive
Poetic Knowledge I
Jarmon          Blue, text of film
Artaud              "The Theater of Cruelty (First Manifesto)," "The Theater of Cruelty                           (Second Manifesto)," Letters On Cruelty"
Valery            "Poetry and Abstract Thought, The Art of Poetry
Poetic Knowledge II
Stein               "Sentences and Paragraphs," How to Write (Los Angeles: Sun and Moon Press, 1995), Tender Buttons, (Los Angeles: Sun and Moon Press, 1991), Stanzas in Meditation, (Los Angeles: Sun and Moon Press, 1994)
Hejinian         "The Rejection of Closure," "Two Stein Talks," "Line," "Strangeness," "A Common Sense," all from The Language of Inquiry, (Berkeley: University of California Press, 2000)
Zorn                Treatment for a Film in Fifteen Scenes, Arcana
FILMWORKS III: with Marclay on some tracks, audio
The Power Archive
2.11                Power Diagram I
Artaud                        "To Have Done With the Judgement of God," text and audio,
Foucault:       "The Eye of Power", and "The Confession of the Flesh"
Lucier             "I am Sitting in a Room," audio
Power Diagram II
Jabes             "At the Threshold of the Book," "And You Shall Be in the Book," The Book of Questions, "The Pre-Existence of the Last Book," The Ineffaceable   The Unperceived, "The Question of Subversion," The Little Book of Subversion Above Suspicion
Derrida,         "pages 1-5", "Exergue", p. 7-23, "Preamble," pp. 25-31, Archive Fever
______                      "Outcry: the Chicago Stock Exchange"
The HipHop Archive
Hip-hop vocal archive 1
Michel de Certeau, "Story Time," in The Practice of Everyday Life
Jacques Attali,          "Repeating," and "Repetition, Silence and the End of Sacrifice and Repetitive Society," in Noise: the Political Economy of Music
James A. Snead      "Repetition as a Figure of Black Culture," The Jazz Cadence of American Culture, Robert G. O'Meally ed.
Hip-hop vocal archive 2
Paul Garon, "Blues and the Poetic Spirit,"
Appendix: "Surrealism and Black Music,"
"Notes on the Psychology of Enjoyment,"
"Work,"
Norman Stolzoff       Wake the Town and Tell the People: Dancehall Culture in Jamaica
Talking Blues: The Rise of the Sound System,"
"Run Come Inna the Dance: the Dancehall Performance,"
Tricia Rose,              "Soul Sonic Forces," in Black Noise: Rap Music and Black Culture in Contemporary America
Digital Archive I
Chris Brown             "Pidgen Musics," and presentation
A/V I
Delueze         "Cinema, body and brain, thought," , Ch. 8, pp. 189- 215 Cinema 2
"The components of the image," Ch. 9, 225-261, Cinema 2
Steven Feld, "From Schizophonia to Schismogeniesis: On the Discourses and Commodification Practices of 'World Music' and 'World Beat,'" in Music Groves, Feld and Keil
Leary, T.         "L.S.D., Dr. Timothy Leary PH. D.," audio
DeMarinas    The Edison Effect: A Listener's Companion, audio
Digital Archive II
Interview with Pamela Z, by mark bartlett and john roloff
Pamela Z      parts of speech, audio
A/V II
Hark               "Time and Tide"
Deleuze         "The Crystals of Time, Ch. 4, pp. 68-83, Cinema 2
"Thought and Cinema," pp. 156-168, Ch. 7, Cinema
20th Century Time Capsule, Buddha Records, 1999
Presentations at Betalounge: David Goldberg's Studio/Lab/Experimental Exhibition Space
Betalounge A/V Archive student presentations : the students were expected to create their own A/V Archive for their final project, and present them at David's venue.